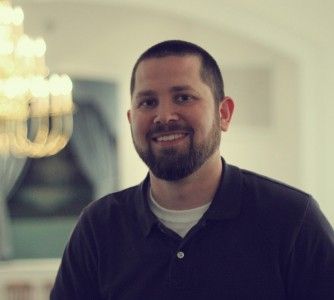 An Interview with Brad Griffith
Brad Griffith launched Clement Arts in 2012 as a means for artists, musicians, and writers to use their gifts to the glory of God and for the care of orphans. His family also pursues this cause through providing foster care to children. Brad practices writing in many forms, whether songs, poems, or blogs. He lives in Salem, AL with his wife and three children, the youngest of whom was adopted from foster care.
CA: How and when did Clement Arts begin? How did God call you to this ministry?
Clement Arts began in the fall of 2012 as a way to merge two things I am very passionate about — creativity and orphan care. I arrived at that place through a work of God in my own family. My wife and I felt a possible call of God to adopt, but mostly we just knew we had to do something for the sake of a child or children. (We have since become foster parents and are in the process of adopting a little boy.) At the time, we weren't sure what that calling meant, but I had some friends who were already in the adoption process. At the same time, I was recording an album of original songs. A desire grew to use that project to benefit my friend's adoption. Through that process, I became aware of and connected with another adoptive family at my church, and God began to show me the need that exists for so many adoptive families when they receive the call in faith, trusting Him to work out the costly financial side of adoption. So Clement Arts was born out of a desire to answer that need through the creative gifts of God's people. From there, we connected to more and more families and artists as the ministry began to grow
CA: Did you ever expect for the ministry to grow into what it is now?
Yes and no. It's interesting that we started this ministry with basically no money and no experience in the non-profit world. But I think if a ministry is worth doing at all then it's worth giving it our best and seeing what the Lord does with it. So I always felt like Clement Arts had a lot of potential to do much good because we have a God who multiplies loaves and fish. 
At the same time, I couldn't have envisioned from the start all that we are doing today. It has been a process, especially early on, of finding what we could do well and what didn't work, and refining our calling and identity as an organization. We started by doing adoption support events and projects, and we are still committed to that. In that effort, we have raised over $65,000 for 18 families. But along the way God has opened doors for us to have hands on ministry to children and families through our Clement Kids arts classes as well. And now we have the opportunity through Clement Care to partner with local churches in responding to the foster care crisis in our area. So looking back at where we started to where we are now, I definitely see the hand of God blessing work that is close to His heart.
CA: What have you learned from this work that has been life-giving?
One of the life-giving aspects of this work is seeing the generosity of God's people. There is literally nothing we have done as an organization that we have accomplished on our own. So many people have offered their time, their creative abilities, their love and prayers, and their financial resources to make the ministry of Clement Arts possible.
I wish I could thank every single person who has ever made a donation to an adoptive family, bought a ticket to an event, enrolled their children in arts classes, volunteered, financially sponsored an event or project, or advocated for children in need within their church. I wish I could thank them all by name, but there are too many! That's why, as Clement Arts turns 5 this fall, we are throwing a Celebration event on September 19. You can find more info on our website, and I hope you'll join us!
CA: How has Clement Arts impacted you and your family?
In some ways, Clement Arts has made my life more hectic! There has been a lot of work involved, as I'm sure anyone who ever started a business or non-profit can attest to. But the work has also been incredibly enriching to my life and my growth as the person God is making me to be. It's been a blessing that my wife shares a heart for this work, both in the organization and in our own family. And my hope is that my children have been able to better witness God at work in other families for the sake of the fatherless.
CA: Clement Arts has been in ministry for the past 5 years. Where do you see Clement Arts in the next 5 years?
In my mind, 2017 has been the year where Clement Arts has really hit its stride. We know who we are and where God is calling us. To that end, we will continue to host excellent events in support of adoptive families and to increase the number of matching grants we're able to offer. We will continue to improve Clement Kids classes, both in terms of our space and the quality instruction that we offer. And the widest horizon is for Clement Care — right now we have a small network of churches committed to ending the foster care crisis, but there is room for so many more to join the effort. We expect Clement Care to be the hub of a thriving network of churches across racial and denominational lines that will make a vital impact in the lives of many at-risk children and families in our area. In 5 years, our desire is that more children are in loving, Christ-centered homes, more families are strengthened through gospel work, and God is more glorified in our city.