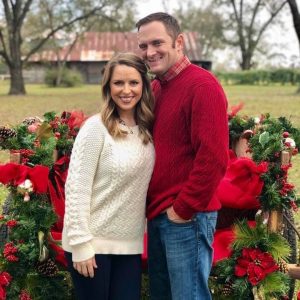 Clement Arts is excited to welcome Heather Irvin as our full-time Clement Care Director where she will be leading a team to recruit and lead volunteers who will carry out the work of the Clement Care program across various partner churches and ministries. Heather has over ten years of experience with work in foster care through CASA, DFCS, and many other organizations. She and her husband, Richard, have two children and attend Wynnbrook Baptist Church. 
CA: What do you like to do in your spare time and what are your hobbies?
I love spending time with my family! We love to turn up the music, laugh, play, sing, and dance! I enjoy volunteering with my church through Praise Team, Sunday School, AWANA, VBS, and anything else that might come up. I also enjoy volunteering with Make-A-Wish and any other opportunities to give back. My favorite hobbies are drawing, dancing, singing, and cooking!
CA: How did you become involved with foster care?
I was always compelled to help others and I've always loved children. So, with a bachelor's degree in Psychology and a minor in Sociology, it was only natural that I gravitated towards counseling and social work. My original plan was to obtain my master's in Marriage and Family Counseling from Southwestern Theological Seminary; however, I graduated in 2008 when the recession hit, and jobs were not easy to come by, so I settled for a job with DFCS for the time being. God's plans were much bigger than mine, because from that point on I had fallen in love with helping foster children.
CA: Who or what inspires you?
God's word, positive messages/quotes, and my family and friends.
CA: Of all the arts, which is your favorite?
I would have to say music.  I couldn't imagine my life without music in it.  It is mostly significant to me because I love to worship through songs.
CA: How has foster care changed your life?
It has changed me in so many ways. I am more compassionate, understanding, patient, and forgiving. I understand the importance of the innate bond between biological parents/family and if it can be repaired, it should be.
I've seen the brokenness of a child. No child should ever feel like they are not good enough or feel unloved. I've washed beaten, bruised, and filthy children, who were coming into foster care. I've bought them bedding, PJs, school clothes, food, shoes, toothbrushes/toothpaste, etc. out of my own pocket without reimbursement because the foster parent couldn't afford it. I've left my 1-year old daughter on her first snow day to sit with a child in the hospital from 2 PM to 8 AM the following day. I've seen children handed over to the department with their belonging shoved into a large black trash bag. I've mourned the loss of two child deaths that left me broken.
I've seen so much that would have pushed others from doing what I've done, but it's the children that keep me going. Seeing them discover what it means to be loved, to find stability, to become who they were truly meant to be, and to finally feel safe. That is what it is all about. Not giving up, never saying, "it's just too much", but instead say, "what do I need to help this child succeed". I think of how our loving God has never given up on me. No matter how stubborn I've been, how I may have pushed Him away, or pitched a fit because I didn't get my way. He didn't love me any less. That is the same love I've looked for when placing/advocating for children.
I pray for more foster/adoptive parents who look past the pain of the child's trauma and see the hurting child who needs acceptance, stability, safety, and most importantly Agape Love. I have some incredible stories of families who did just that! That is what it is all about! The children finding their forever home and forever feeling the love that they deserve so they can enjoy their childhood.
CA: How has God shaped your heart through this work?
Over the last 10 years, I have seen how God has used me to forever change the lives of children in care. It is such a joy to know that the children I've worked with have a chance at a happier, healthier, safer, and more stable life. I appreciate my children more, I understand the value of life, and moments that should never be taken for granted. I feel a profound calling to serve in this ministry. I want all children to know they are valued and to know agape love. I see the importance of needing more Christ-centered foster/adoptive homes so clearly. Foster families need necessary support and training to help them succeed. "It takes a village" has never meant so much as it does when it comes to fostering/adopting. I'm looking forward to the day I'll be able to adopt myself. Our whole family is ready, and we have been patient in waiting for His timing. We pray often for our future adopted child.