Empowered to Foster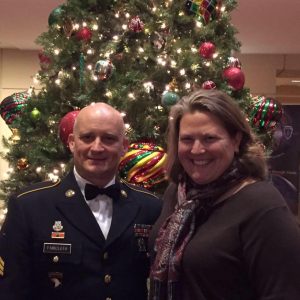 An Interview with Patrick and Misty Faircloth
Patrick and Misty Faircloth are from Oklahoma, but they have been calling Columbus home since June 2015. They have one adult daughter whom they adopted as a teenager from the foster care system while Patrick was stationed in Oklahoma. They worship at Christ Community Church in Columbus where they have recently started a foster care ministry, Empowered to Foster. Patrick is a musician in the US Army and formerly was a public school band director, and he is currently in graduate school working on a degree in counseling. Misty is a former band director, now full-time college student again, working on a degree in diagnostic medical sonography. They are grandparents to an amazing two-year-old little boy and have been formally involved in foster care since 2010 when they became foster parents in Oklahoma.  
CA: How did you become involved with foster care?
Our own foster care story began in 2009 when Misty had a seventh-grade band student who was very open about the fact that she was in "the system". Toward the end of that school year, this very troubled band-kid named Jasmin was removed from her current foster care placement and placed into a shelter. She would not get to finish the school year at the school, and Misty began to inquire about how to help Jasmin finish the school year in one school, for one of the only times in Jasmin's 14-year life. We began to discuss the possibility of becoming a home for Jasmin and gave our information to her case-worker. God had not blessed us with a biological child, and we had not really considered fostering. Jasmin needed a home, and we had one. God made it clear that His plan was for us to become foster parents for Jasmin. We went through the certification process and then waited for the time that Jasmin would be ready to move in with us. Although we had stayed in contact with Jasmin at her most recent placement, nothing prepared us for the day we went to pick her up. When we arrived at her foster home, we helped Jasmin load everything she owned into our car. Even though Jasmin had been in this particular home for a few months, her foster parents had not even considered giving her a nice bag to carry her things in. That day, we loaded trash bag after trash bag into our car, along with a torn-up, dirty cardboard box of her shoes and other haphazardly packed items. We had been informed earlier that day that we needed to take Jasmin to the court house in the county where her mom's case was being handled. Apparently, her birth mother was to be adjudicated that day and sent to jail the next. Jasmin's birth mom had asked to see Jasmin before going to jail, and wanted to talk to Jasmin personally about her termination of parental rights. So, that is what we did. And, that day, Jasmin moved into our home, then sat in court, holding her birth mom's hand as the judge banged the gavel on the termination of parental rights. This was just the introduction to what has become our life story of the last six years. Nothing could have prepared us for what we experienced in the following months and years. Jasmin wanted us to adopt her, and after only eight months in our home, the decision was final. At the age of 15, she got a new last name and a new birth certificate, and we had legally become her parents. Although we had the verbal encouragement and prayer support of our church friends and our families, we were vastly unequipped to handle the stress and trauma that our troubled daughter brought into our lives. It was bad enough that she had been abused and neglected for most of her life up to that point. Add to that the fact that she had been separated from her biological sister since the age of 11 and had lived in at least 25 documented foster care placements over her short life; 18 of which were in the two years prior to her moving in with us. Maybe it's because we didn't know how to ask, or that we could ask for help… Well-meaning church friends would say we were doing an awesome thing. They would offer to pray. Prayer is certainly powerful, but our love for each other shouldn't stop there. Maybe it's because they didn't know how to help…
Our story is not a unique one, but it is extreme. Years of struggling with our daughter's mental illness and spiritual warfare. Struggles with school. The need to drive more than an hour for therapy each week. Times of stress in a marriage. The need for someone to spend time mentoring our daughter. The need for a meal when you get back from a flight to and from another state to see your child in a residential treatment facility. Something as simple as taking her shopping for new clothes or providing time alone as a couple to refresh and recharge.
Our daughter has not yet truly been able to win the war against her mental illness and generational habits. We've prayed, we've been to therapy, we've prayed some more… Sadly, her life choices over the last year and a half have led her to move out of our home and back to her birth family. We have both personally been able to work out our own healing with God through this last year.
CA: How has foster care changed your lives?
Being involved in foster care has forever changed who we are and how we live. On the most obvious and practical level, we are parents and grandparents now. That did not happen biologically, it happened through the power of adoption from foster care. On a grander scale, our relationships with God have grown immeasurably. Before becoming foster parents, neither of us had really struggled or been forced to truly rely on God for everything. Our experience with our daughter forced us to seek God and to trust him in every area of our lives. We learned what a good father he is to us. We learned that no one can live this life alone and that we must live in community with fellow believers. Our struggle has also given us an understanding of and appreciation for all that is required of people who choose to be foster parents. Patrick is actually following God's call to change careers from musician to counselor so that he can be a more effective instrument in this mission field. God has placed a passion in us to support the recruitment of Christian foster parents and to empower them to be the hands and feet of Jesus to these vulnerable children. We have a great burden to help children like our daughter. It is even more important to help other foster parents to better bear the burden of loving tough-to-love children. Christ Community Church's (CCC) ministry is called Empowered to Foster. Our mission is – changing lives and breaking generational cycles by educating, equipping, and empowering the Body of Christ to support foster care families and to raise up new ones!
CA: What has been the most exciting thing about starting a foster care ministry within your church?
Probably the most amazing thing that we've seen is how God has been blessing this move from the start. When we first asked about starting a ministry, our church pastors were supportive. The moving of God's spirit in this community was so apparent in the late summer and early fall of 2016. God was calling His Church to wake up and to do something about the mounting crisis plaguing the foster care system nation-wide, and especially in Muscogee County. When we made the formal presentation to our congregation, we had unbelievable feedback from members who had their own foster care stories, or who had been feeling the tug of God on their hearts to do something about the foster care crisis. One family in particular had just begun the process to become foster parents and said that they could be the "guinea pigs" for the ministry. Another family, brand-new to town and to our church, had been thinking and praying about being foster parents for several years. When they heard our church was starting a foster care ministry, they knew that it was a sign, an answer from God that it was time to start the journey! We have been blown away by the response of these two families and by the interest of church members who want to support them.
CA: How does it impact you to know that other churches in Columbus are also responding to the call to help in foster care?
We've said through the last year that no one person, no one ministry, and no one church has to reinvent the wheel, or try to change things on their own. We are always better and more effective when working in community with others who are like-minded and share the same passion. Knowing that other churches in the area are responding to the call is a huge blessing and encouragement. It gives us strength to know that, if we need help, we can call another ministry and get it. Our hope is that each ministry feels that it is a part of the larger picture. We are all members of one BODY. Each church has a specific part to play in this mission field. The most important thing is that children and families in the area that are touched by foster care will be forever changed because Christians stood up and did something for them.
CA: What are three things you would tell someone who has never been involved with foster care but would like to be involved on some level?
1. Please pray! Pray about your involvement in this vital work, whether that be at your own church, through a private organization, or through your own family.
2. You may not be called to be a foster parent, but you can do something- make a meal, drive a car, tutor or mentor a child, help out at the DFCS offices, donate clothes, help with household chores, etc.
3. Do not fear what you do not know. As 2 Timothy 1:7 states, "For God has not given us a spirit of fear, but of power and of love and of a sound mind."  If fear of the unknowns of foster care is what is holding you back from getting involved, educate yourself. Reach out to members of your church who are involved and ask them what it's all about. God has placed each of us here for a purpose! He has given us gifts to use boldly for His kingdom. As Eugene Peterson paraphrases in The Message, "God doesn't want us to be shy with his gifts, but bold and loving and sensible." Fear dissipates with knowledge, so learn as much as you can from people who are already doing this work!
CA: How has God shaped your hearts through this work?
Our hearts are forever changed. We cannot hear the words foster care or adoption and not have our hearts tugged. God has called us to something we had never planned, and He is walking with us each step of the way.