APRIL 3, 2019
Ministry Through Art
By Heather Irvin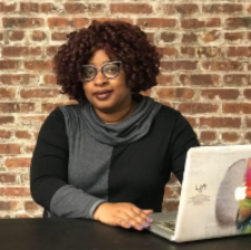 Clement Arts is blessed to have talented and caring art teachers such as Raven Henderson.  Part of our Clement Kids program, Raven has been working with the Anne Elizabeth Shepherd Group Home (AESH) girls once a week since January.  It has been a beautiful transformation for these girls as they have learned how to express themselves through art.
We wanted to learn more about Raven's inspirations and process in working with the girls.
---
CA: What first inspired you to get into art?
RH: My interests in art were reignited as an adult.  I accepted a job with lots of travel, and so I was no longer able to unwind after work doing crafty things.  Instead, through social media I learned about urban sketching.  It was like keeping a travel diary with a limited mobile cache of art supplies.  When I left that job, I kept at it and eventually moved into more acrylics, canvas, and mixed media work.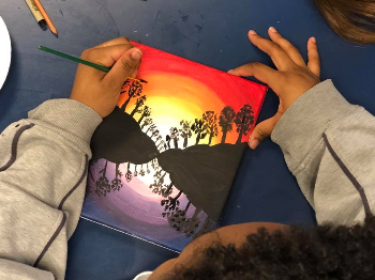 CA: How has art influenced your life?
RH: Keeping an art journal really helped me meditate on the Word of God.  As I spent the time to illustrate my devotionals, I was also meditating on the Word and hiding it in my heart.  Plus, if I shared my images online, it often led to discussions with friends and family.  Art has been a great way to spend time alone in a therapeutic sense but also to connect with others in a low pressure community where the focus is on encouraging each other.
CA: How does God fit into your work?
RH: I cannot say enough about how adding art to my Bible study time has been a positive thing.  First, knowing I want to draw what I study requires that I am very actively engaging with my Bible study.  Then the sheer time allotted to creating extends that dedicated time with God.  Finally, if I choose to share the artwork it allows me to share my walk with Him to others.  So it becomes a discipleship and evangelical tool as well.
"Knowing I want to draw what I study requires that I am very actively engaging with my Bible study."
CA: What has been your experience so far working with the AESH girls?
RH: The AESH girls and I have been working on art journaling with Mixed Media.  We read a passage of Scripture together and then discuss what God is saying in His Word.  The class is called "Wonderfully Made" because we focus on the unique way each girl is made but also the God that made them.  Also, every other week we are learning the basics of a different art media like watercolor, brush markers, acrylics, decoupage, etc.
What I have learned is the power of encouragement and permission.  The girls were at first a little apprehensive about doing things the "right way."  Figuring out the "right thing to draw" or "right verse to focus on."  But it's all the living, breathing Word of God.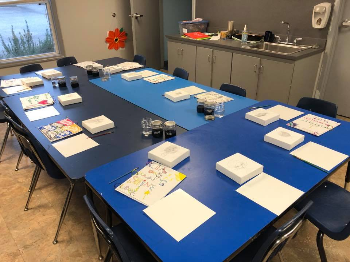 So allowing and encouraging them toward freedom in searching the Scripture and applying it to their lives is awesome.  
Then after learning the basics of how to use an art medium, the girls may be hesitant to try in a creative way.  Like "should I draw this with marker or colored pencils? or can I use marker and colored pencil?"  That's the freedom in art.  If they understand what the outcome will be and what they want it to look like then they have freedom to experiment.
Plus the girls have permission to not like a medium after they have learned the basics.  Acrylics aren't for everyone and I love when a AESH girl can confidently tell me she prefers markers to watercolors.  I truly love them growing in self-confidence in their own work and being quick to offer encouraging words to each other.
When I see a girl that can point out the difference she likes in someone else's work, it makes me happy.  She's no longer stuck in envy or feeling inadequate.  She's celebrating her differences and those of others.  Even as an adult that encourages me each week.
"I truly love [the girls] growing in self-confidence in their own work and being quick to offer encouraging words to each other."
CA: What has been your favorite project so far?
RH: My favorite project was more about the mood of the room.  It just happened to be a week where each girl felt kind of "blah" or "meh" but they were still willing to study the Scripture and create art.  I think we studied a passage on David lamenting his situation but finding hope in the Lord.
The girls seem to identify with that in different ways.  It was a "Choose Your Own Adventure" night where they got to choose their own mediums from the start.  So I walked around to give encouragement and permission to create, but the girls were ready to jump in.  Most immediately zeroed in on a verse about angels protecting you as you pray.
They only seemed to look over at their neighbor to encourage, not compare.  The mood in the room brightened just like it has for me when I do art journal my quiet times.  The girls had started to find solace and joy in creating while meditating on the Word of the Lord.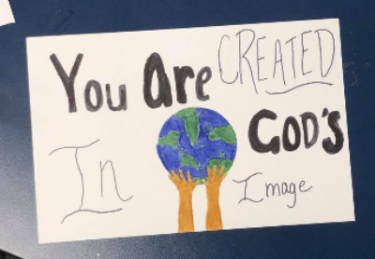 CA: Have the girls' art allowed them to come to a self realization or influence others in the class?
RH: The biggest realization may be in shying away from destructively comparing themselves with others and the need to be "perfect."  One of our first meetings we talked about Cindy Crawford's mole.  How the very thing she bullied for became her trademark later in life.  So much so that other girls began to draw fake ones on themselves.
So that's kind of been an inside joke for some of the girls that struggled early on with trying to draw the perfect line or letter.  And I think it speaks to a generation that is more aware of branding themselves like celebrities.  There is a peace in accepting yourself, and your drawings, as they are.
"There is a peace in accepting yourself, and your drawings, as they are."
CA: What is your hope for the girls in attending your class?
RH: My hope is that they realize they now have Bible study and art therapy in their tool kit for life.  I pray the Word of God takes root and they can remember the lessons that inspired the art we created together.  I hope they have the confidence to remember they can do this outside of the classroom as well.