Rescue: The Celebration Banquet Ballet Story
Amelia Cox, Clement Kids Director
---

The Clement Arts Celebration Banquet is on Tuesday, September 24, and we invite you to celebrate the past 7 years with us and join in imagining what the next 7 have in store!
There will be a special performance at the event by several of our Clement Kids Studio Elevare students, and we would love for you to see this beautiful piece they have been working very hard to present. Below is the story of how this special ballet performance came to be, and beautiful doesn't even begin to describe what the Lord has been weaving together through the stories of those involved.
Holly Price is our Clement Kids Creative Director. Ellie Grace Hughes and Amanda Vineyard are both Clement Kids Ballet Instructors. And Amanda Taylor is our Clement Kids Assistant as well as a Clement Kids parent. Holly and Ellie Grace have put in countless hours choreographing and instructing for this performance. Amanda Vineyard will join them in performing the piece at the Celebration Banquet, and Amanda Taylor and Holly both have daughters performing as well.
---

Holly Price's Story
When we started planning for the Celebration and were told that our Clement Kids dancers were invited to perform, I started listening to songs and reaching out to Ellie Grace to take the lead on choreography and teaching. During that time, I heard Lauren Daigle's song Rescue - which I had heard many times but now heard it with ears for the orphan. When it came time to choose a song and we were told the theme of Imagine, I reached back out to Ellie Grace for song ideas. I remembered Rescue and sent it her way. We both felt it perfect for what we wanted to communicate.
In the days that followed, the Lord gave us both a very similar vision for the dance, and during a planning meeting we put our heads together and the choreography came pretty seamlessly and fairly quickly. We felt that the chorus of the song fit best with teachers dancing with our students, and we reached out to Amanda Vineyard to join us.
---

Ellie Grace Hughes' Story
Typically, when I'm thinking about creating a dance, the music and the movements come into my mind at the same time. I'll hear a song and then I'll immediately see myself or my ballerinas dancing in my mind (or vice versa) – I'll create a combination of moments in my head and then the song will appear. But for some reason, I was a little "dancer blocked" for this dance when Holly first told me about it. I fell in love with the reason behind the dance and couldn't wait to craft something that celebrated the beauty of what the Lord is doing through Clement Arts. It was completely inspiring and passion-inducing to be able to welcome our dancers into worshiping and celebrating God's work in this way.
As soon as I heard the first beats of Lauren Daigle's song Rescue – I was there. Immediately, I was swept into a world where I wasn't wanted and wasn't chosen. A world where there was only brokenness and the light that tried to get through the cracks was dim at best. But because of God's great love for me, pain was exchanged for beauty and I was reminded of my truest worth and value in his eyes.
The beauty of this song is that it tells a truthful story. It is true for the orphan who needs a home and it is true for the child who grew up always knowing love but still needs to be reminded of their value. We are born into a hurting and imperfect world, and it is a reminder that we were created for so much more. I think that through this song we get to dance our personal story as well as champion every other person who needs an advocate. 
---

Amanda Vineyard's Story
Last spring, I was introduced to the song Rescue, and right away the words reminded me of God's desire to rescue the orphan and the women who suffer from their decision to end their pregnancies through abortion. God is the master Rescuer! It's who He is - to become the shelter and the armor of those who have no earthly way out of the situation they are in.
And we get to be a part of His rescue mission...we have the privilege to be His hands and feet here on earth. As a well-known Christmas hymn puts it, "in His name all oppression shall cease."
The day my son was rescued from his abandonment in China, God was there. He was with Him and has rescued an orphan and brought him into a family for life. And I got to be a part of that miracle, a part of the rescuing! 
---

Amanda Taylor's Story
I have loved this song since the moment it came out. Who doesn't love Lauren Daigle's rich voice helping us lift up our praises to Jesus? But when my daughter was asked to dance to this song for Clement Arts, I listened to Rescue again and heard it with new ears.
I know the promise that Jesus will save me - that He is here for me in my deepest and darkest trying times. Yet so many children have no idea that as they cry out into the darkness, with helpless and hopeless whispers on the wind, that there is a God who is literally sending out armies to fight for them. When I listened to this song from the point of view of Him promising to them what they desire most, I lost it. I sobbed as I listened to the song over and over.
What a beautiful and redemptive story: that even as these children cry out, Jesus not only fights for them, but He loves them and promises them rescue.
---
Rescue, by Lauren Daigle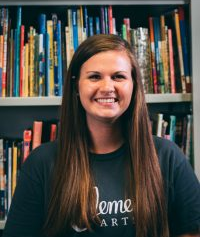 Amelia Cox serves on staff as Clement Arts as Clement Kids Director. She loves how the Lord has brought together her love for adoption and foster care with her passion for music and fine arts.
Clement Kids offers quality children's arts instruction in a fun and uplifting environment with instructors who love children as much as their craft. The camps are open community-wide, and children in foster care are invited to attend tuition free. Proceeds from Clement Kids support local adoption.