The Best Christmas Party Ever
by Christal Gavin, Clement Care Director
---
Since early November, people from around our great city have been collecting toys, board games, snacks, books and more to donate to an annual Foster Family Christmas Event.
This year, multiple churches and organizations worked together to make this a unified event blessing foster families and children from Muscogee, Harris and Russell Counties.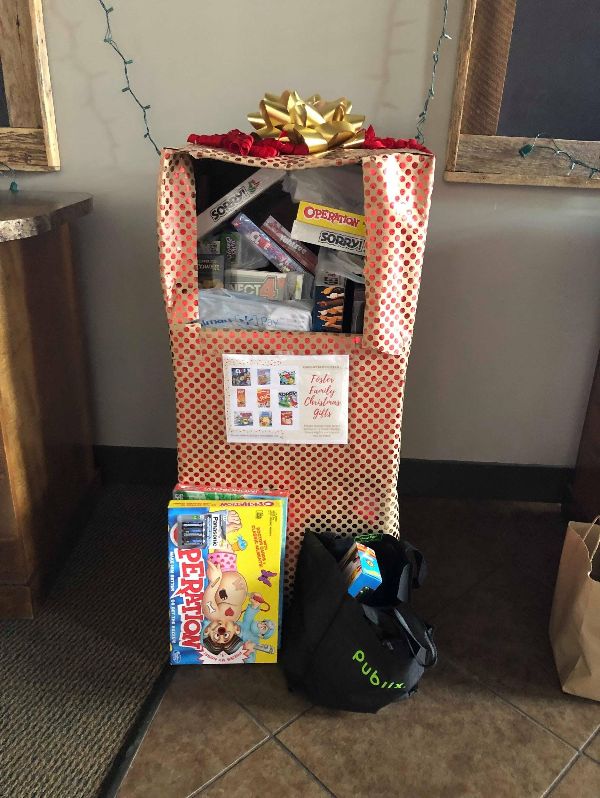 ---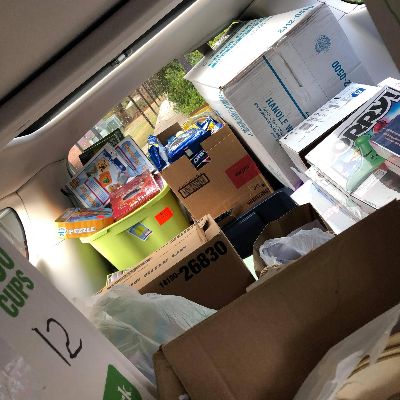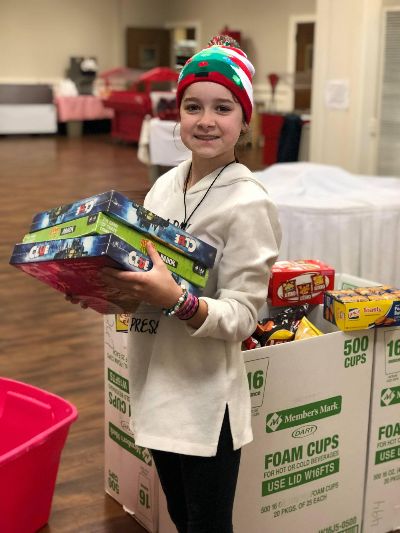 The planning committee consisted of: Christal Gavin (Clement Care Director at Clement Arts), Helen Hall (Lead advocate of "Foster Love"), Keagen Clark (CASA Program Coordinator) Lee Snow (Outgoing president of Columbus Jaycees), Yanci See (Advocate Team Member of St. Luke's Foster Care Ministry). 
When the big day finally arrived, people showed up with trucks and vans full of goodies to distribute. Volunteers of all ages quickly jumped in to unload, create assembly lines and to begin setting up for the honored guests that would be arriving within a few short hours.
---
The tables were thoughtfully decorated by the event staff at St. Luke United Methodist Church, led by Director of Events Ms. Lisa Marie Ming. Each table had candy sprinkled on it donated by Foster Love, the Foster Care Ministry at Wynnbrook Baptist Church. In an effort to occupy both our young and mature guests, coloring sheets and art supplies donned each table, donated by New Birth Outreach Church.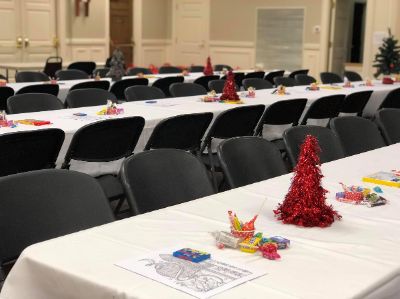 ---
Christmas music played quietly in the background as the first guests began to arrive. They were greeted with smiles at the door by volunteers from the Columbus Jaycees and area churches. By the end of the day we had greeted over 140 children!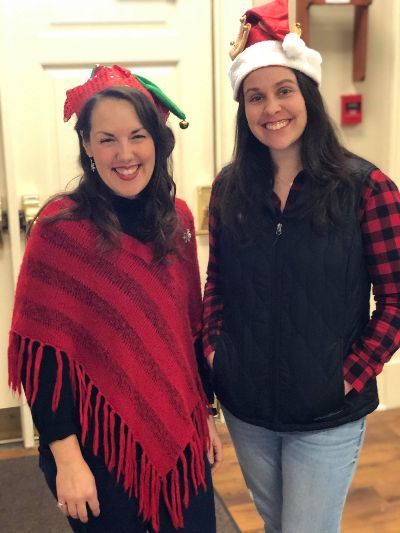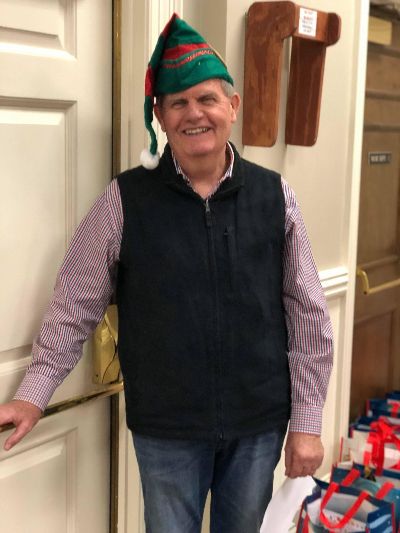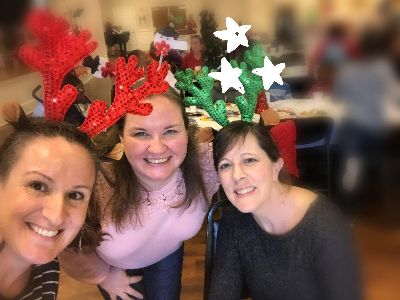 ---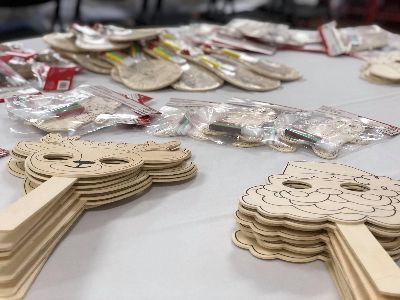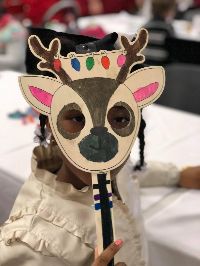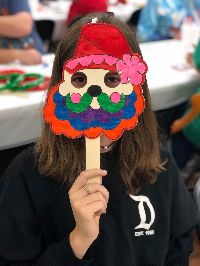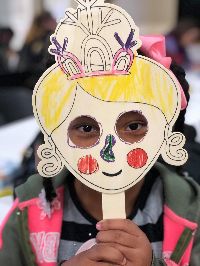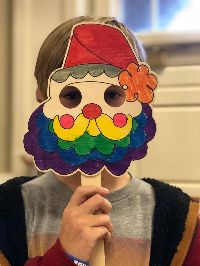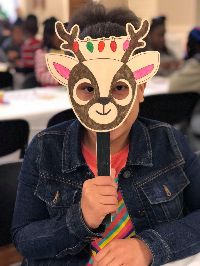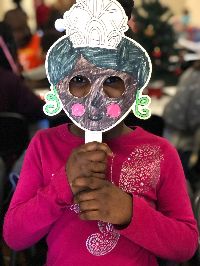 Clement Arts provided wooden masks, yo-yo's, paddle boards, and ornaments for children to decorate.
Children alternated between their crafts and the gift room assembled by Wynnbrook Baptist Church for children to pick a gift for a loved one. The gift could be a biological parent, a foster parent, guardian or other adult who plays a special role in their life. Volunteers from Wynnbrook helped children choose and wrap their gifts.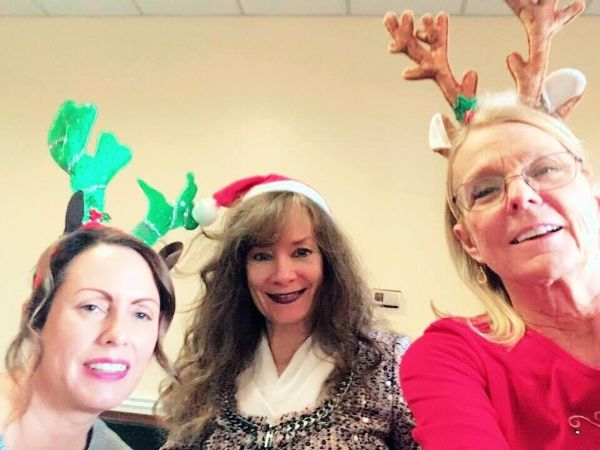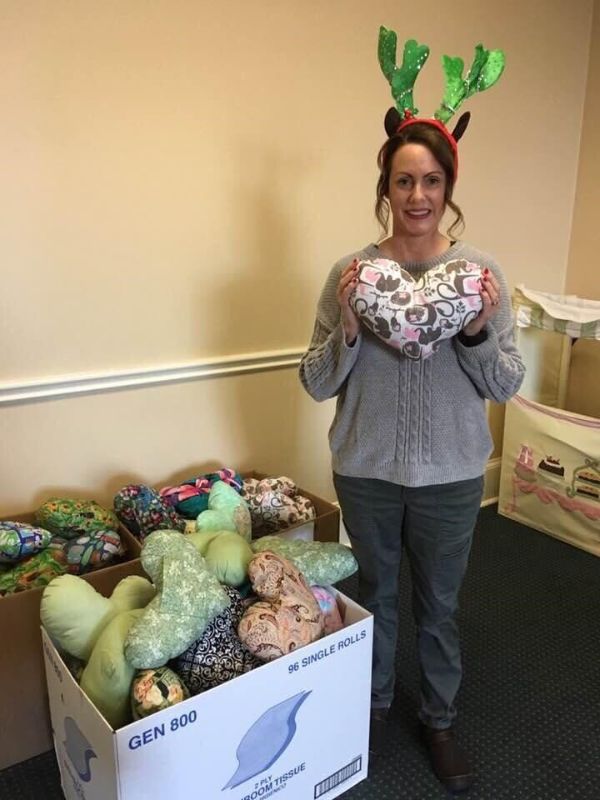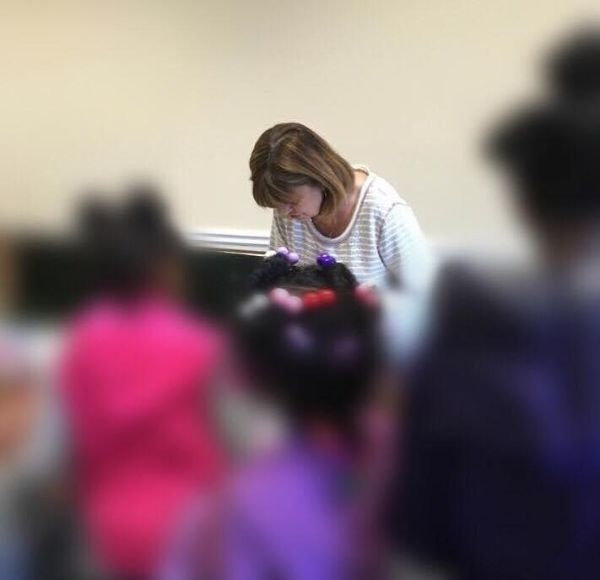 ---
Mark Gavin, local foster parent and lead advocate for one of Clement Care's partner churches, entertained children with his fun "Antler Ring Toss" hat and acted as emcee for the event.  Another of our local foster parents, Sarah Jane Herbert, graciously offered to read the Christmas Story to the children as they waited for lunch.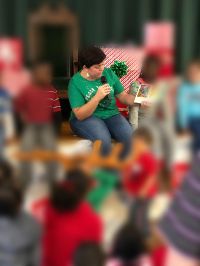 ---
Pastor Lee Snow of Warm Springs Road Church led the group in a blessing. St. Luke United Methodist's amazing staff prepared and provided guests with a delicious, kid-friendly meal of chicken strips, mac-n-cheese & green beans!
As families were finishing their lunch Executive Pastor at Christ Community Church, Nick Cash, played guitar and led the crowd in some Christmas carols. Along with traditional carols, the kids enjoyed singing "The Rudolph Pokey" to the tune of "The Hokey Pokey":  You put your antlers in, you put your antlers out, you put your antlers in and you shake them all about…
As the final song filled the air, "Santa Claus Is Coming to Town", it was only fitting that the jolly fellow himself stopped by for a visit!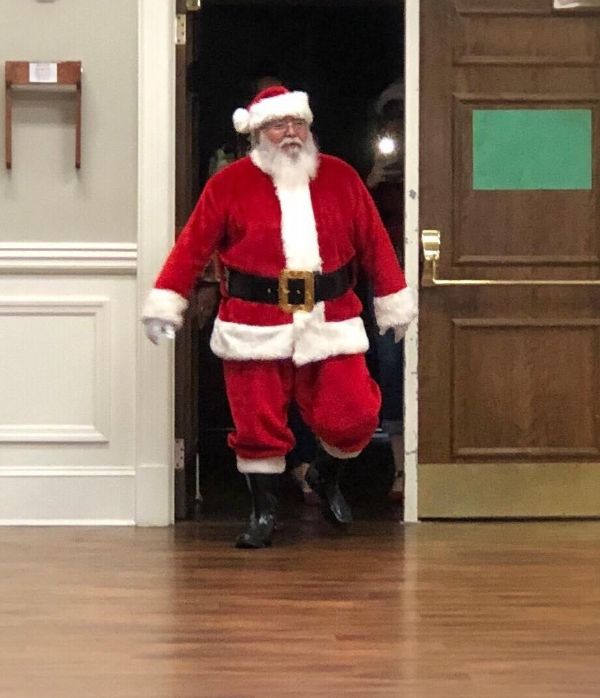 ---
Children made their way onto the stage to visit Santa, stopping to receive and to take photos. As they exited the stage, eager volunteers from Chattahoochee CASA were there to meet the children and lead them through the maze of present filled tables.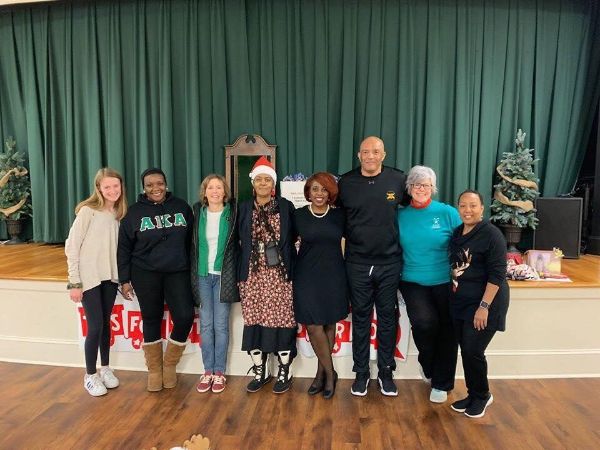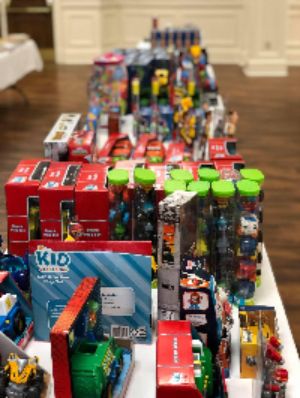 Alongside the toys, every child received a book from the nearly 200 books that the Columbus Jaycees donated. Some friends of CASA donated gift cards (Keller Williams Realty River Cities), and others lovingly created bookmarks to be passed out (The United Way & TSYS Financial Dept.).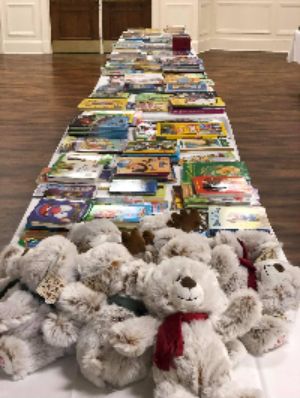 Teenagers received a gift card for either Walmart or Target donated by members of Crosspointe Church. They donated over $1,400 in gift cards to give to our local teens in foster care.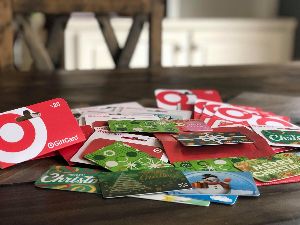 ---
As each family was leaving, they received a "Family Game Night" bag loaded with treats and a game to enjoy. The bags were a combined effort of: St. Andrews Presbyterian Church, Christ Community Church, Westminster Presbyterian Church, Wynnbrook Christian School's Beta Club, and Bethesda Baptist Church. Each bag included a handwritten note thanking them for coming and letting families know they are loved and prayed for!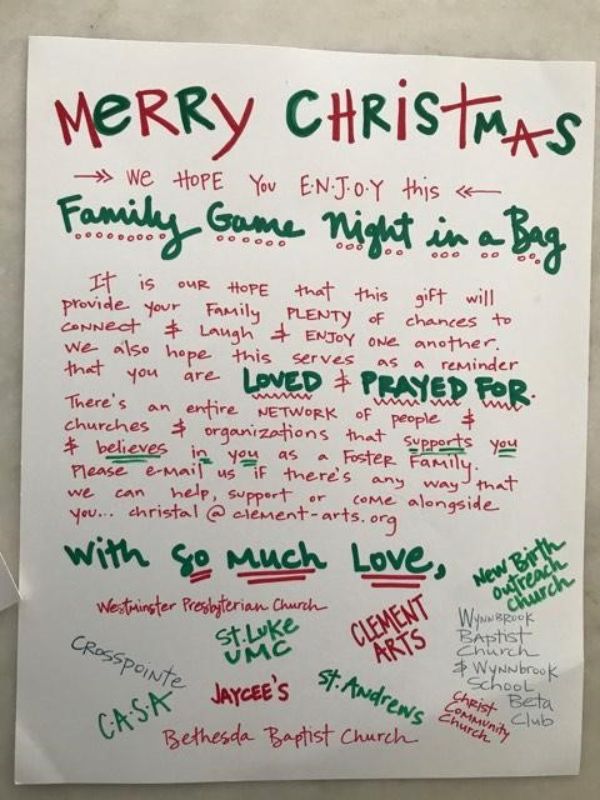 Throughout the day, volunteers welcomed hugs and smiles by the sweet children and teens. It was touching to see so many in the community who had come together to provide a day of food, fun & gifts for our local foster families and children in care. More than once you could hear tiny voices proclaim, "This is the best Christmas party ever!"
Thank you to everyone who donated, volunteered, and took time to create this special Christmas memory!
---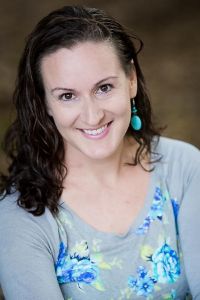 Foster and orphan care are a passion for Christal and her family. She and her husband, Mark, have been licensed foster parents since 2016. Christal and Mark, along with their 3 children, are members of Christ Community Church. Christal facilitates a growing network of such foster ministries with Clement Arts as Clement Care Director.
Clement Care is a partnership between Clement Arts, Live the Promise, and local churches who seek to establish foster care ministries within their congregations. Believing that the local church is the best answer to the foster care crisis, we facilitate a growing network of church foster care ministries in Muscogee, Harris, and Russell counties.