Worship in Painting
An Interview with Gina Hurry
We are excited to have Gina Hurry join us this year for Poets, Painters, & Storytellers 2016. Gina is an artist from Birmingham, Alabama, who strives to reflect the heart of God through her art. We spoke with Gina about how God reveals Himself to her through painting and why she is excited to be a part of this event.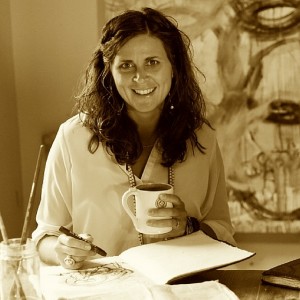 CA: When did you first know you loved painting, and what drew you to that art form?
Gina: I've been an "artist" for as long as I can remember. My first "painting" memory was marking the walls of our family home with my mother's lipstick when I was two or three years old. I grew up at the feet of other artists in their studios and can't remember a time when I was not painting and responding to life this way. I was drawn to painting as an expression and also as a way to pour out and process my heart and feelings in a more abstract, subversive way since my family was not drawn to processing openly.
CA: How does God reveal Himself to you through your craft?
Gina: God is good to reveal himself to me in the process. Most times the process is hard and messy and humbling, but it seems He allows me the freedom to wrestle and create by faith, and He brings me to the end of myself as I stumble into finding the completion of each piece.
My "craft" begins in my mind, which is stirred through the world around me: in nature, worship, corporate prayer, reading scripture, conversations with friends, and life experiences. My imagination is stirred as I listen to life. I see His kindness and beauty in all of these things, and many times I'm inspired to respond with paint.
CA: What do you enjoy most about painting? What topics or themes excite you the most?
Gina: What I enjoy most about painting is having the opportunity to respond to life in my own "language." The actual act of creating/painting can be frustrating but can also be very restorative for my soul and an opportunity for reflection, processing, and prayer.
Heaven is the theme that excites me the most, and I tend toward the challenge of communicating and translating unseen spiritual truths in winsome ways.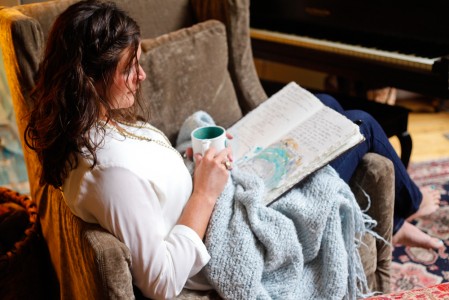 CA: How do you hope that God might use your work in the lives of others?
Gina: I pray God uses my work to stir people to wonder and dream of what Heaven is like. I hope my work helps folks slow down and ponder who God is and what He is saying to their heart. I feel such joy when my work helps viewers and clients connect their stories with God's character and His heart for them and help remind them He is a good Father and He can be trusted.
CA: Tell me something about yourself that I might not pick up from your paintings.
Gina: I'm a California girl at heart and I love dark chocolate and watching the sunset.
CA: We are excited to have you join Clement Arts for Poets, Painters, & Storytellers 2016. What are your expectations for the event, and how would you encourage folks to join us?
Gina: Thanks! I'm excited to be invited to join in. I'd hope for deep connections with people at the event and rich conversations about who God is and what He is doing. I hope my work is a blessing to those who come and that paintings and prints sell to benefit the adoptive families.
I'd encourage people to come be a part of something so beautiful and close to the Father's heart. I'd encourage people to come with open hearts, curious and hopeful that HE might have something to say to them, calling them further up and further in to this big and beautiful story He is writing.
Gina's art can be viewed here at HER WEBSITE.