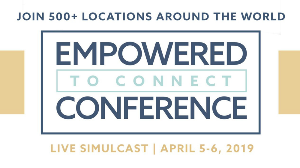 Empowered To Connect Live Simulcast Hosted by Jeeah's Hope
Jeeah's Hope Adoption and Foster Care Ministry invites you to participate in The Empowered to Connect Conference. It is a two-day event presented by Show Hope and the Karyn Purvis Institute of Child Development and hosted by Jeeah's Hope. It is a two-day conference designed to help adoptive and foster parents, ministry leaders, churches, and professionals better understand how to connect with children from hard places in order to help them heal and become all that God desires for them to be. The conference features the teachings of Dr. Karyn Purvis and is ideal for adoptive and foster parents, those considering adoption or foster care and those who are serving and supporting others, including social workers, agency professionals, teachers, church staff and ministry leaders, counselors, therapists and others.
Conference hours are 10 a.m. to 6 p.m. on both Friday, April 5th and Saturday, April 6th. Doors open at 9:00 a.m. for registration and fellowship on both days, with the simulcast starting at 10 a.m.
Is childcare provided? Yes, childcare is provided. If you need childcare, please contact us at jeeahshope@gmail.com to reserve a spot as space is limited. Childcare for the conference will be $10 for the first child and $3 for each additional children paid at the door. Childcare is free for foster families.
What food options will be provided? Light snacks will be provided. There is an hour allowed for lunch from 1:15 p.m. - 2:15 p.m., and many off campus options within driving distance.
What certification is available for this conference? All guests will receive a certificate of attendance that can be turned in to your agency for training purposes.
Will Continuing Education Units be offered? The Empowered to Connect Conference has been approved for 11 hours through the National Association of Social Workers (NASW), though they cannot guarantee any approvals for the 2019 event. Simulcast viewers seeking NASW credit will be required to complete a post-test and receive a score of 80% or above to receive a certificate. All professionals must register at https://showhope.org/ceu in addition to live event simulcast registration. Once registerd with ShowHope, you will receive a form that must be presented to Jeeah's Hope in order to recieve CE credits. Jeeah's Hope will file the paperwork and CEC certificates will be emailed to registered professionals within 2 weeks of the event.
Please feel free to contact Ashley Perkins with any questions at 706-587-3092, or at jeeahshope@gmail.com.
Location:
Crosspointe Church
2301 Airport Thruway
Columbus, GA 31904