The Copeland Family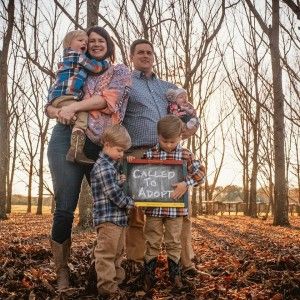 Scott and Heather Copeland met while they were in college. They began dating not long after they met, and they were married within a year on December 3, 2005. Scott is the owner of Affordable Heating and Cooling in Columbus, Georgia. Heather was a high school counselor at Russell County High School and Northside High School, and although she loved her students and occupation, God had other plans. Heather's heart and dream has always been to stay at home with her children, and she is obedient in following God's plan for this. The Copeland family members are Scott, Heather, Ridge (4), Creek (3), Lake (2), and Spring (10 mos).
The Copeland children continue to keep Scott and Heather on their toes. Between swimming, bike riding, riding the gator, and playing in the water hose, their life is never boring. Their boys love the outdoors and it is where most of their time is spent! They can't wait for Spring to be big enough so she can join in on all the activities her brothers love.
God laid adoption on Scott and Heather's hearts before they had their four biological children. They struggled with infertility before God opened Heather's womb for the first time, and in God's loving kindness, he opened it three more times! God is so good, and his timing is perfect. It has always been their plan to foster to adopt. Scott and Heather began the paper work for it, but God had other plans! Heather started a Bible study at their church in January 2016, and during this time, Heather had been watching Will and Karan Anne Hawk's adoption journey on Facebook. Her heart was forever changed. God moved in her, and she knew they were called to adopt. At the Bible study, the thought of China never left Heather, and she couldn't escape it. She knew their daughter was in China, and she later told Scott, and he began to pray for China too. Through much prayer and discussion, they knew God was calling them to China. Now they are waiting and praying for their precious daughter. They know she is out there, and in God's timing, they will bring her home. The following quote describes their heart for adoption. The gospel is adoption!
"God searched for you, found you, fought for you, signed the papers with His blood and He adopted you and brought you Home –and the only way any of us get into the family of God is through the most painful adoption." -Ann Voscamp. 
The Copeland family was supported by Family Photo Day 2016.