The Hawk Family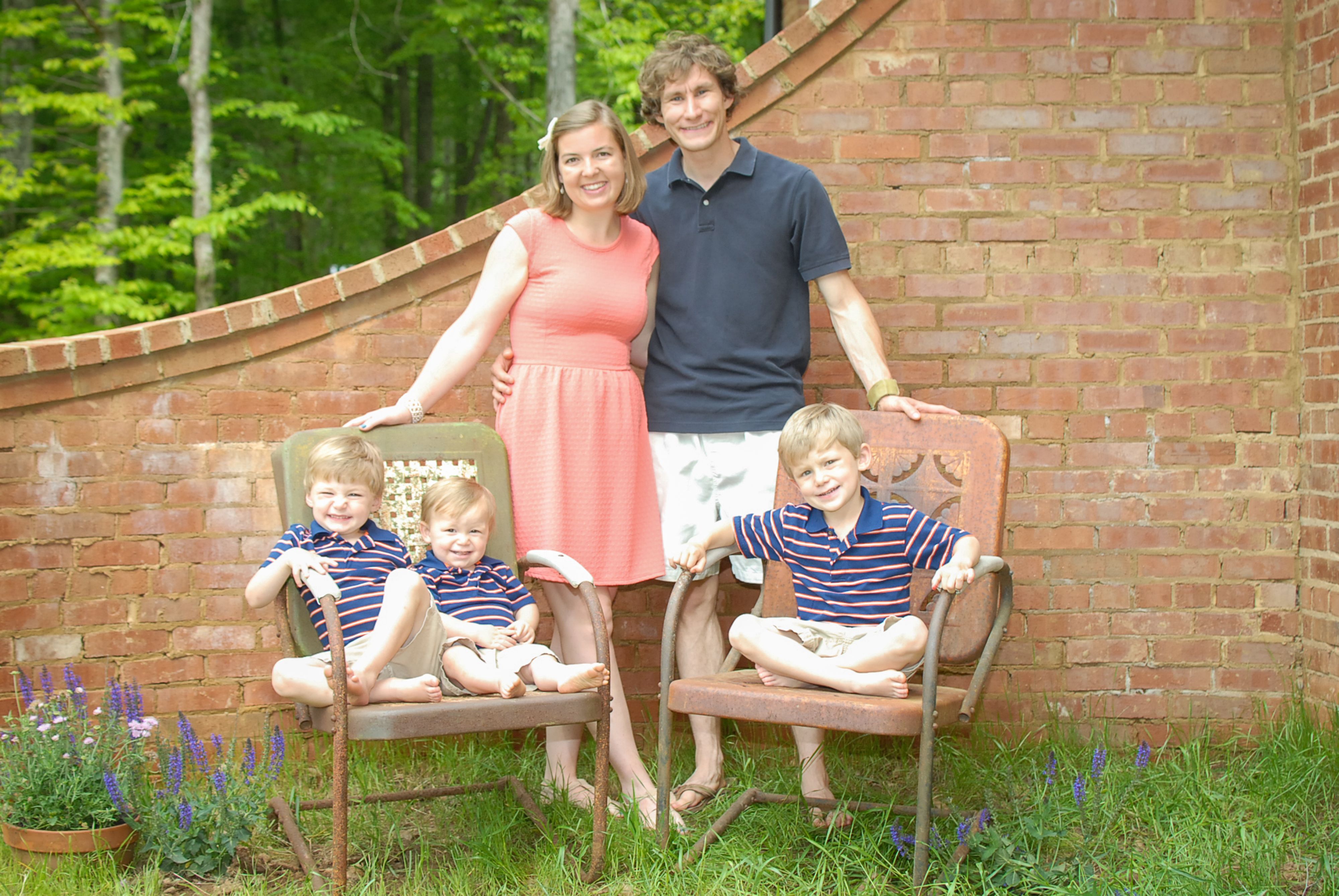 The Hawks are William, Karan Anne, and their three boys Ellis (6), Thad (4), and Aimes (2).
William and Karan Anne met in high school when she was 15 and he was 17. Karan Anne told a friend that Will would be her "dream guy to date" but "DON'T SAY A WORD!" The next day that friend went straight to William and said a word! He called her immediately, and they talked all night until Karan Anne's dad woke up for work and made the crazy teenagers get off the phone. The following night (after catching up on sleep) they went on a date, and they have been together since.
William has been in youth ministry since he graduated from high school. He is currently on staff as pastor at CrossPointe church. His main focus is with the teenagers and young adults, but he also enjoys teaching Kids' Church and counseling.
Karan Anne was a teacher for before having Ellis, but now stays home and is living her dream of being a stay-at-home mom. She enjoys decorating and dreaming up fun little projects for her and William to complete together. She also partners with William in a lot of his ministry work because they believe that being an imperfect, Jesus-loving family is an important thing to model in front of the teenagers and young adults.
They recently moved into a house that William spent about a year building and contracting out himself on some land out in the country. They are enjoying their new country life where the boys are continually sweaty, muddy, and sneaking frogs and lizards into the house.
Why Adoption?
Back in high school and college the couple began hearing more and more adoption stories. After watching a particularly moving clip together on YouTube they looked at each other and decided that this was a route they wanted to pursue. At first Karan Anne admits it just seemed so sweet to give an orphan a home and a family. It was more of an emotional decision than God's calling.
After having kids of their own and maturing in their understanding of the realities of adoption and that it needs to be a call, not just something to make your Christmas cards look like you are a good Christian family they prayed and asked God to confirm this path. God did and they are excited to walk in faith as they pursue a child from China.
Why China?
When their oldest was just a baby they went and met with a person from an adoption agency and asked a ton of questions – lots of naïve questions about adoption. One thing that stuck out most from that meeting was when William asked, "Where is the biggest need? Domestic or international?" The man answered that the need is great everywhere, but if he had to pick he would say that a child in the foster care system here in the states has a much better life than a child in a foster care situation in a foreign country. After hearing that, they new God was calling them to adopt internationally.
When picking a country, William and Karan Anne really wanted to pick somewhere where the Gospel was not easily heard. After doing some research they narrowed it down to India and China.
The Hawks love Lifeline Adoption agency and have seen firsthand how responsible they are with their money and how thorough they are in the country. Lifeline did not have an India program, so China it was!