The Morrow Family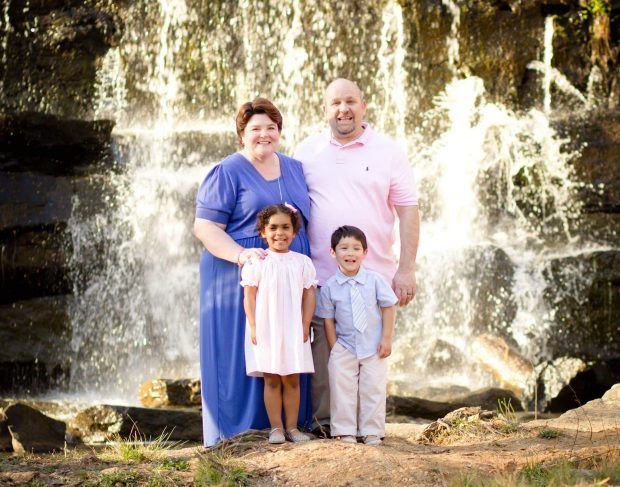 Joe and I (Karen) met 1 month after I moved to Arizona and we knew right away that the reason I moved to Phoenix was for us to meet. When we talked about children I always wanted a big round table with kids from around the world. Joe loved that idea and embraced my dream as his own. Early on we were approached about adopting a little boy from Jamaica, and since we weren't married I was going to adopt and then Joe was going to adopt once we got married. We were a few days away from going to Jamaica for Christmas when we discovered that we were being scammed. It broke our hearts. We decided that we would take some time to let our hearts heal before we decided what we wanted to do next. In the meantime we were approached about moving from AZ to Omaha, NE and decided that it would be the best thing for our family to move. During the same time we were moving we were planning a wedding. We got married on Valentine's Day, 2013. While moving and planning a wedding, we were also going through a very difficult time coming to the realization that I would never be able to have children. Soon after we were married we decided that adoption would be how we grew our family and after much praying we decided that we would adopt domestically. At the end of April 2013 we started our home study, and by July 1st we were home study ready and applying to agencies.
On October 1, 2013 we were matched with a birth mom who was pregnant with twins. We met K on October 19th, spent time with her on October 21st while she had a 4D ultrasound, and then flew back to Omaha. It took us a week to process our visit before we blogged that we had been matched. Little did we know that the day we announced that we had been matched would be he same day that the twins were born. Clara and Cooper were 7 weeks early. After 19 days in the NICU and ICPC we got to go home on Thanksgiving 2013. What a thankful day it was! We have maintained communication with the kid's birth mom over the last few years and have always said that if she were to have another baby we'd adopt again. Not knowing exactly what that looked like or even if it would happen again, we just always kept that in the back of our minds.
Around mid October 2016 I felt God stirring in me and telling me that there are babies that need to be loved. Not knowing what that meant or what He was telling me exactly, I prayed and sought guidance and direction. Around the end of December I told Joe what I felt God was calling us to do and I felt He was leading us to foster care. I asked Joe to join me in praying so we could be on the same page and hoping that God would give him that direction as well. Around mid January, we began talking to our friends who foster to pray with us. We knew God was moving and we thought fostering was what we were being called to do. I kept hearing God telling us He was the Father to the orphans. I got a call to travel for work the first week in February, which was the next time the foster orientation was to be held. I was sad knowing that we would have to wait another month but trusting that was God's plan.
The week I was gone we got a call from the agency that we adopted Clara and Cooper from. Clara and Cooper's birth mom is pregnant and they wanted to know if we wanted to adopt. Immediately, I knew in my heart that this was what God was opening my heart for. Not only is their birth mom pregnant, she is pregnant with another set of boy/girl twins. Joe and I talked and immediately said yes to the call. God's call and God's plan.
The twins are due June 16th, but with Clara and Cooper being 7 weeks early, we are preparing for an early arrival.
The Morrow family was supported by Coffee and Canvas and donations.