Ashley & Josiah Johnston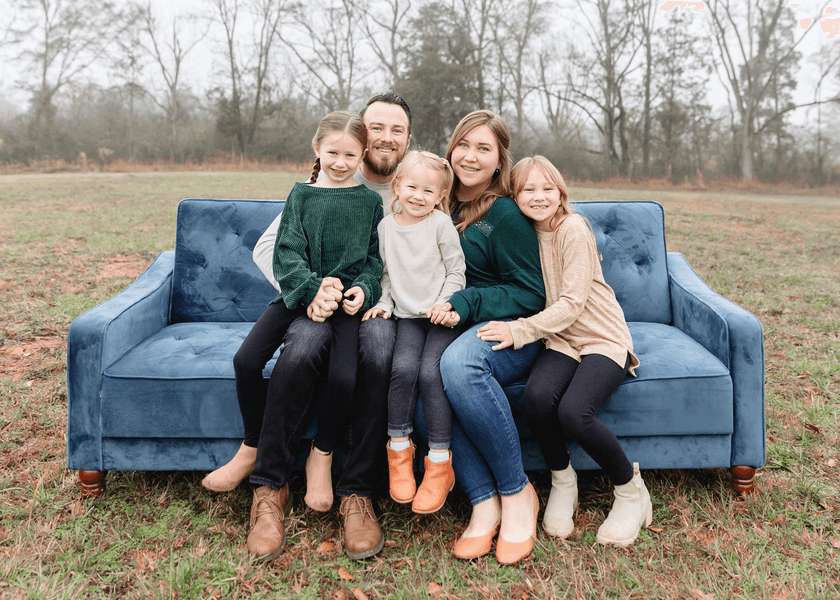 I'm sure a lot of you have seen bits and pieces of our story and I'm sure you all have questions surrounding adoption, most do. Like why do it? We have three kids- why have more? And if I wanted more, why would we adopt out of the US? Hopefully this story will help you all understand our heart a little more. 
In 2005 my mom passed away and it shook my family and my childhood to its very core. I was made very aware at a young age that children need their parents to survive and thrive. I struggled living for many years, carrying the burden of schoolwork, finances, low self esteem and lack of self worth, before I cried out to God to save me.  
As God was working on my story, he was also weaving the desire to adopt into Josiah's life as well. So when we met and began planning our lives, it was a passion for the both of us. 
After marriage we were thrust into parenthood with our sweet honeymoon baby, followed by a second trimester miscarriage, and then our rainbow baby, and lastly our littlest. It was quiet for a moment after and it seemed like the right time to start figuring out this whole adoption thing. 
I knew two adoptive families at this point, both were international from China, but Josiah and I were sure that we were supposed to adopt from foster care. So that's the path we took in 2020. We started the classes. We prepared the room. We had the visits, but God closed the door. 
Our hearts were shattered. 
So we sold our first home, moved into a rental and we waited for the next thing we were "sure" about. 
Then God closed another door. 
Now we were about 7-8 years into our marriage at this point and it was the first time in a long time that I felt so out of control and lost. Our big plans that we had been working YEARS towards just crumbled right before us and to be honest, it left us feeling a bit lost. So we did the only thing we knew to do and that was pray. 
I prayed over where we were going to live, over Josiah's job, over adoption, over our girls. You name it, I was praying over it. 
During this time of prayer, my friend Wendi ever so casually said "You should adopt from Taiwan" and I couldn't get it out of my head. Like for 6 whole months! I needed a lot of convincing before we tried to do this whole adoption thing again so a casual mention wasn't going to do it. With her words still fresh on my mind, I ran into her and her family again at a Clement Arts art fair. Josiah and I listened to Jason talk about adopting their son from China. Tearfully, his words that rang in my ears then, weight so much more now that I know. Jason said "When our son asks me 'how much did it cost?' I don't want to say 'bringing you home was easy' I want him to know it cost EVERYTHING. That we really had to work hard." Jason went on to share the gospel and how we, ourselves, are bought with a high price. 
Josiah and I got into the car, looked at each other and decided we're doing it! We were going to adopt from Taiwan. 
Shortly after, I filled out the paperwork with Lifeline and we began researching Taiwan to know more and more about this beautiful island, all the while I pleaded with God for something, ANYTHING, to let me know we were headed in the right direction. 
That's when Josiah and I noticed little bugs all over our curtains. They were termites! We called the landlord and she had a pest control person come out the very next day. He took one look at them and said "These are formosan termites." And I said "Taiwanese termites?" And he replied "Yes! How did you know that?!" And then I told him we were hoping to adopt from there. Then this sweet man proceeded to share with me for over an hour about how he adopted his son, who was now 10 years old. He left with no work to do because the termites were not nesting or destroying anything. Just passing through. 
Admittedly, after all of that I was still very afraid. We filled out the application and paid the fee - but it wasn't a for sure thing. We still had the home study to do. Which looked like it would be a quick and easy one, but you know how things go. I asked God to reveal any area in our home and marriage that needed to be repaired before bringing another child home and He did just that! Our agency suggested we go to counseling due to my childhood trauma. While i was a little bitter at first, it's my greatest advice to all parents now. 
It took every bit of 11 months to become home study approved, and that meant it wasn't a matter of if, but when! We were overjoyed and waited patiently (or not so patiently) for the files to start rolling in. 
After a few weeks, we received our first file. We prayed over this adorable little boy but we knew another family would better suit his needs and with heavy hearts we said no and went back to the wait. 
We waited. 
And waited. 
And waited. 
So we went to the page of "waiting children" where we would often go to pray over the kids and we saw the photo of a sweet boy named "Dave". 
Josiah looked over what little information we could see and said "why not?" So we reached out to ask for more information. A week later, they sent a short paragraph about him with another photo. We read over it together and decided again "why not?" So we asked for even more information. This time they sent a short file. We had 24 hours to decide if we want to put his file on hold and pursue him. With very little information we continued with "Why not?" 
The very next day we met Josiah for lunch at Red Robin and "Dave's" full file came in. I read his birth story, I read about his mom, I watched videos of him playing at school. We saw him grow from 5 to 7 and I bawled my eyes out. I wanted to be his mom. We wanted to be his forever family.
Now the wait was on. Cathwel had been super backed up due to the influx of adoptions coming their way. So that meant we would have to wait until October before we had our match meeting (where his caseworker, foster parents, and orphanage would decide which home had the best needs for Dave). 
Time dragged on and October finally came and went. Hiccups happened (as you learn they do in the adoption world) and Our agency then told us that the orphanage would host our match meeting February 20th after the new year. So we celebrated Lunar New Year with friends and waited for another call. Roughly a week after the 20th we received word that the Taiwanese government and Cathwel have both approved our match request but there was one more person who needed to say yes… "Dave". 
Because he had turned 8 and is in the 2nd grade, the Taiwanese government wants to see a willingness to be adopted. So on March 6th they presented our file to him. He read our story, saw photos of our family and pictures of his room and said yes. (I should add that he was particularly excited to see legos )
On March 8th we received a call from our agency telling us the best news. We have officially been matched with our son whose name is Y-T. 
Now we are here. Sending care packages, pictures and videos, filling out paperwork, and raising money to bring him home. I'm still in shock that God took that one, heartbreaking no, and turned it into so many amazing yes-es. 
We are truly so grateful for all of you who have been following along, praying, giving, and hiring me to take your pictures. All of it has helped us get one step closer to Y-T coming home and I for one can't wait to tell him about all the people who waited for him, prayed for him, and loved him before they even knew him. 
To make a financial donation, please give directly to their fund at Lifesong for Orphans.