Clement Kids Art
Introducing Kids to the Joy of Art
Clement Arts is proud to present Clement Kids Art — a place for kids, ages 6-18, to discover the joy of art. Kids will develop the skills they need to express themselves and reflect the beauty of the world around us.
Clement Kids classes are open to all children in the community. Proceeds from classes help support local adoption. Children in foster care are invited to attend tuition free.
---
Fall 2019 Art Schedule:
August 19 - December 13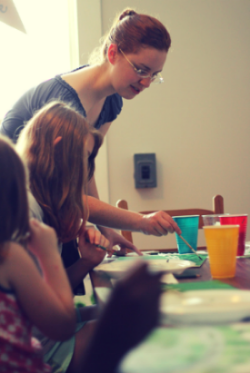 Heroes in the Bible Multi-Medium (ages 5-8)
Monday 4:15 - 5:15 pm
Instrutor: Renato Ferreira
Mixed Medium 1 (ages 10-18)
Wednesday 5:00 - 6:00 pm
Instructor: Raven Henderson
Mixed Medium 2 (ages 13-18)
This class is being held as a private class for Fall 2019
Wednesday 6:15 - 7:15 pm
Instructor: Raven Henderson
Hand Stitch 1 (ages 7+)
Thursday 4:45-5:45 pm
Instructor: Amanda Newman
Hand Stitch 2 (ages 7+)
Thursday 6:00-7:00 pm
Instructor: Amanda Newman
FALL SEMESTER
*Class will not be held the following dates for holidays:
Monday, September 2
Monday, October 14
Thursday, October 31
Monday, November 11
Monday, November 25 - Friday, November 29
---
Class Descriptions
Heroes in the Bible: A Multi-Medium Approach (ages 5-8)
There are several Bible stories that are traditionally taught in Sunday school. This class will revisit some of these classic hero stories as well as parables and teachings through an artistic lens. In each class, we will learn about a biblical character and create a piece of art to aid in understanding the account and its significance to the gospel. This will be explored through multiple forms of art making such as painting, sculpture modeling, collaging, several uses of fiber, and others.
Mixed Medium Art (ages 10-18)
One's artistic ability and self-worth in Christ often fight the same battles. We fall into cycles of comparison that lead us to judge ourselves, become deaf to encouraging words, and believe God's promises might not apply to us. Through artful worship our prayer is that each participant is empowered to study and hear the Word of God for themselves and express their uniqueness with various art mediums. Each week will build on the previous week's class. We will spend some time in brush lettering, ink washes, watercolors, watercolor pencils, acrylics, collage, textures and finally combining all to create mixed media projects.
Hand Stitching 1 (ages 7+)
This class puts a modern spin on the basics of hand stitching. Kids ages 7 and up will learn a variety of hand stitching skills, including a running stitch, back stitch, whip stitch, crochet, and hopefully many more. They will learn how to make classic gifts for friends and family or explore how to layer their new skills into a bohemian style work of art. As the girls are discipled using the model of Lydia from scripture, we will work together to create pieces that they can choose to sell at the next clement arts adoption fundraiser to show them that even at their age they are more than able to create beautiful things as a blessing to themselves and others.
Hand Stitching 2 (ages 7+)
In order to participate in this class you must have completed Hand Stitching 1 through Clement Kids, as these classes build on each other. In this class we will refine and enhance the techniques begun in HS1. We will learn additional stitches and create more intricate projects. This class will be adjusted as the students progress to include new hand sewing skills based on students interests and abilities.
---
Location:


Westminster Campus
2303 Double Churches Road
Columbus, GA 31909
---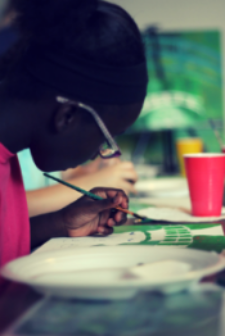 Fees & Registration
Registration/Supplies Fee (per student): $25
Registration fee must be paid for child's name to appear on class roster. Registration fee is nonrefundable. An invoice for class will be sent via email once registration form is received.
Art Tuition (per student): $65 per month*
*4 months in semester
Discounts:
10% discount if semester paid up front
10% discount for active duty military
10% discount for additional children involved in these or other Clement Kids classes
$20 referral credit per new family referred
Only one discount available per family. Discounts are not able to be stacked.
Ask about our special offer to foster families – email amelia@clement-arts.org.
Click here to drop a class for Fall Semester 2019
---
About the Instructors
Amanda Newman – Stitching Instructor

Amanda Newman is a wife and mother of two children who are her biggest supporters and motivators. From an early age, she was an eager student of all the arts. She has been blessed to be surrounded by women with a variety of hand stitching skills, passed down to them through generations. She's very excited to share these and other techniques she has learned with the next generation of eager students. As Amanda has grown up, those little early investments have grown into a life calling to mission work in Rwanda Africa where she gets to teach the women there skills to create products that she brings home to sell for them. It has grown into a business called COPO that sells their products all over the United States. Amanda sees the Lord answer in her own life over and over her prayer from Psalm 90:17 "May the favor of the Lord our God rest on us; establish the work of our hands for us– yes, establish the work of our hands." She cannot wait to see what the Lord does with the work of those little hands she is trusted with.

Raven Henderson – Mixed Media Art Instructor

Raven Henderson has a professional background in the fine art galleries, graphic recorder, music industry, non-profits, and ministry work. Raven has done live graphic recording for an astronaut, Google Innovator, and countless sermons. She has even created an online community for Sermon Sketchnoters around the world. Through it all she has cultivated a private practice of using art as a mobile way to journal, relax and worship. Even art journaling while co-leading a mission team in Haiti. Raven loves all things artsy craftsy; loves learning; and loves sharing. Her faith is evident in all she does and creates.

Renato Ferreira – Multi-Media and Photography Instructor

Renato has enjoyed creating art ever since he was a little boy. In the process of becoming saved and knowing the Lord, his art has expanded and become a way to reflect on his spiritual growth as well as a tool used to share the gospel. Renato received a BFA in art education and photography from the University of Georgia as well as his MA in art education from Piedmont College. He has taught art in public education for three years at an elementary school and is now teaching at Rainey-McCullers School of the Arts. Renato is happily married to Elizabeth Bennett Ferreira and is enjoying his move to Columbus. Renato feels blessed to know the joy of the Lord and is excited about sharing that with his students through making art at Clement Arts.
---
Questions?
For additional class info, email holly@clement-arts.org
For billing questions, email amelia@clement-arts.org