Clement Kids Music
Clement Arts is proud to present Clement Kids Music — an interactive musical experience!
Clement Kids classes are open to all children in the community. Proceeds from class help support local adoption. Children in foster care are invited to attend tuition free.
Spring Schedule: January 14 - May 10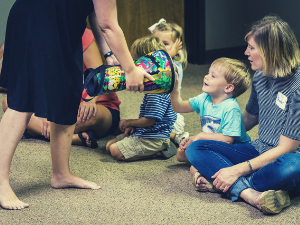 TODDLER MUSIC (ages 1-3)
Mondays, 3:30 – 4:15 PM
Instructor: Zachary McDonald
The Toddler Music class will feature an exploitative introduction to music to children age 1-3 years old. The class will introduce kids to singing, dancing, and playing instruments, as well as a wide range of musical styles. The class aims to help kids develop motor skills and communication skills through music, as well as creating a positive experience at a young age to instill a lifelong love of music. Toddlers must be accompanied by a parent or guardian.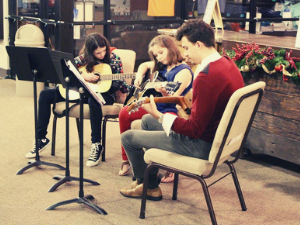 BEGINNER GROUP GUITAR (ages 10-14)
Mondays, 4:30 – 5:30 PM
Instructor: Zachary McDonald
Students of this class will need to have a guitar to use and will also need to purchase a guitar instruction book, which are not included in the class fee.
Beginner Group Guitar is designed to provide a musical introduction to playing the acoustic guitar. Participants will learn the basics of music notation, chords, picking and strumming technique.  It is best suited for beginners or new players, but also open to students who already can play and are interested in possibly learning something new or perfecting their fundamentals.  The class will cover multiple musical styles, including classical, folk, rock, jazz, and more, as well as basic music theory and history.  Students should have a guitar to use (preferably acoustic, but electric is welcome).  Students can expect a performance to be organized at the end of the semester, open to friends and family.
---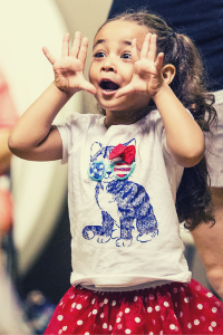 *Class will not be held the following dates for holidays:
Monday, January 21
Monday, February 18
Monday, March 25 – Friday, March 29
Friday, April 19
Location for All Classes:
Westminster Campus
2303 Double Churches Rd
Columbus, GA 31909
---
Pricing & Registration
Registration Fee (per student): $25
Registration fee must be paid for child's name to appear on class roster. Registration fee is nonrefundable. An invoice for class will be sent via email on August 1 or once registration form is received.

*Monthly Tuition (per student):
$10 – Toddler Music
$60 – Beginner Guitar
*4 months in semester
Discounts:
10% discount if semester paid up front
10% discount for active duty military
10% discount for additional children involved in these or other Clement Kids classes
Only one discount available per family. Discounts are not able to be stacked.
Ask about our special offer to foster families – email amelia@clement-arts.org.

---
About the Instructor
Zachary McDonald

Zachary McDonald is currently in his fourth year at Columbus State University's Schwob School of Music. He is majoring in Music Education with a focus on elementary music education. Zachary is also working towards a Certificate in Composition. He has been composing since he was 15 and has won awards for his compositions on state, regional, and national levels and has been invited to New York City twice for premieres of his music, as well as having performances in Michigan, Georgia, and Florida. Zachary is also a multi-instrumentalist and has experience playing saxophone, guitar, banjo, and piano, among other things.
---
Questions?
For additional class info, email holly@clement-arts.org
For billing questions, email amelia@clement-arts.org